Cheese Recipes
Here's some of our favourite recipies. Enjoy them!
"The Easiest Cheese Souffle"
The merit of this souffle is that the eggs don't have to be separated, that it takes about 24 minutes instead of the usual 40 to cook, and it rises perfectly.
Ingredients: 2 eggs - 1/2 cup Cheddar, grated - 2/3 cup heavy cream - 1/2 cup Parmesan, grated - 1/2 cup Swiss cheese, diced or grated - 1/3 teaspoon salt - pepper.
Add eggs to cream and beat slightly
Add cheeses, a little pepper and 1/3 teaspoon salt
Beat again for a moment.
Pour into a 1-quart baking dish until it is 2/3 full and bake in a hot oven (preheated to 450F.) for about 22 minutes or until golden brown.
Serves 2

If you are planning a wedding, anniversary party, christening or birthday bash then make it cheesy!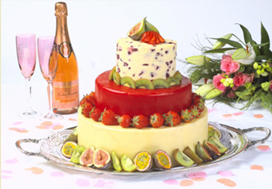 Our cheese celebration cakes are for the less sweet-toothed. They are made entirely of the finest quality cheese and then decorated with fresh fruits and flowers to stand as magnificent centrepieces, rivalling any traditional iced fruitcake.
Find out more...