About Us
The Procter family first made cheese in the picturesque village of Chipping in the 1930s. Chipping is a well known tourist attraction set in the heart of North West England's Ribble Valley with tiny cottages and narrow cobbled streets.
Our small farms have lush pasture, producing excellent milk for cheese making. Procter's purpose built factory on the outskirts of the village has modern refrigeration, packing, and warehousing, offering the most up to date facilities for the storage and maturing of quality cheeses.
The day to day running of the company is now in the capable hands of Tim Procter who is the fourth generation "Tim Procter". Tim is ably assisted by his wife Susan, mother, Jane, and sister, Helen. The Procters are a closely knit family with a real "hands-on " attitude to their family business; an attitude which is reflected in the quality of their staff, several of whom have been with the company for over 15 years.
Now, thanks to the power of the Internet, we would like you to share and enjoy the taste not only of our own cheeses, but some classic English cheeses which we have chosen for our customers worldwide.
We provide a comprehensive guide to all the English cheeses but we can supply many of your favourite continental cheeses as well. Please ask for details if your favourite cheese is not mentioned here.

If you are planning a wedding, anniversary party, christening or birthday bash then make it cheesy!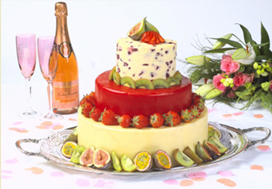 Our cheese celebration cakes are for the less sweet-toothed. They are made entirely of the finest quality cheese and then decorated with fresh fruits and flowers to stand as magnificent centrepieces, rivalling any traditional iced fruitcake.
Find out more...